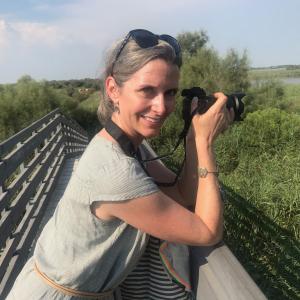 Jacquelyn Sloane Siklos
Artist member since 2018
Toronto , Ontario
Jacquelyn is a Toronto based artist, working in photography and painting. She graduated from a joint art and art history program at University of Toronto and Sheridan college, and continued her art studies at OCADU in Graphic Design and Illustration. She currently teaches at Artbarn School and exhibits regularly in Toronto.
---
I'm really good at making (a) ...
Mess
How long have you been creating art?
I've been painting for over 30 years, but photography is probably closer to 20 years.
What artists do you admire right now?
Gerhard Richter's work is always wonderful to see. The landscapes of Gordon Smith are inspirational
Best season of the year in Toronto
I walk my dog every day through the ravines of Toronto and I particularly love the colours of fall. Winter is also nice for walking - until everything begins to ice up. I hate that.
Describe your home in 3 words
Eclectic, colourful, light-filled. Wait, is that 4 words?
Upcoming Exhibitions
NTGA Fall Group Show
Blessed Sacrament Church, Toronto
Oct 25, 26, 27
Press
2018
TorontoGuardian.com
A day in the Life with Toronto Artist Jacquelyn Sloane Siklos
Education
1998
OCADU
Graphic Design and Illustration
1990
University of Toronto
Fine Art and Art History
SHARE THIS ARTIST